Controlers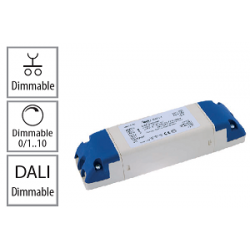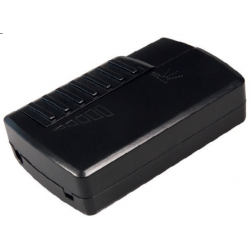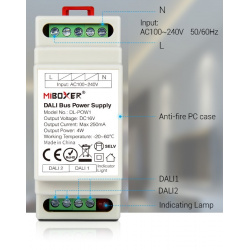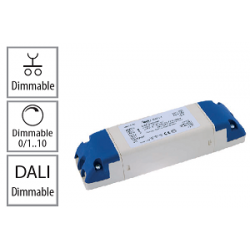 DC DIMER DALI-PUSH-0/10V
Interface/adapter between DC 12-24V input voltage and DC 12-24V LED strip or module.
Adapter can work in three mode of control:
DALI
PUSH button,  NO voltage signal
0-10V/1-10V
Connection voltage 12-24VDC
Power 144W/288W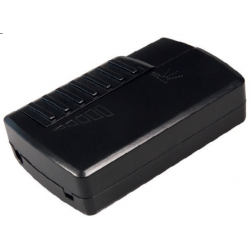 FLOOR Dimmer (FLO 24 dim)
Floor dimmable Led Driver
For control intensity of 24V lamps up to power of 40W
• For independent mounting - IP20 - Insulation Class II
• Pedal adjustment with end-of run switch
• Output in steady voltage 24VDC, +/-5%
• Self-resetting protection against overtemperatures against
open circuit and against output short circuits.
• Input voltage: 100V ÷ 250V/AC, +/- 10% - Steady output.
• Not suitable for systems with switch on the secondary side.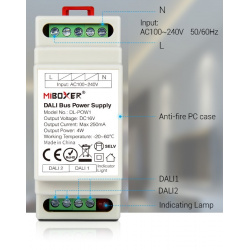 DALI bus power supply (DALI power supply POW1)
DL-POW1 is a newly developed DALI BUS Power Supply, up toClass 2 power supply standard and SELV safety extra-lowvoltage standard; It's with short-circuit protection and low-voltage protection; The case is with anti-fire material.
Parameters:
Input Voltage: AC100~240V 50/60Hz
Input Current: 115Vac/≤0.09A, 230Vac/≤0.05A
Inrush Current: Cold start 10A at 230Vac
Output Voltage: DC16V
Output Current: 250mA Max
Rated Power: 4W
Weight: 70g
Safety:
Isolation Resistance: I/P-O/P:100Mohm/500VDC/25°C/70%RH